Stroke center
A stroke happens when the brain's blood supply is stopped by a burst blood vessel or a blood clot. During a stroke, brain cells can die quickly. Early treatment can help minimize this damage, preventing long-term disability and saving lives.
In this situation—when every minute counts—you can count on Emanate Health's top-notch care.
Here are some of the reasons our stroke care is among the best in the area:
We are a certified comprehensive stroke center
Emanate Health Queen of the Valley Hospital (QVH) in West Covina has been designated a comprehensive stroke center by the Los Angeles County Emergency Medical Services Agency. This means the hospital is a 9-1-1 receiving hospital for patients and has met the standards of the Centers for Medicare & Medical Services. Within minutes of a stroke patient's arrival in the emergency department, our team is able to quickly assess stroke symptoms and provide treatment.
We have advanced treatments for complex strokes
For eligible patients with an ischemic stroke, we can rapidly give a clot-busting drug called tissue plasminogen activator (Alteplase). This is the only drug approved by the U.S. Food and Drug Administration to treat ischemic stroke.
We can even remove a blood clot from an artery or vessel. Teams are available around the clock to perform this emergency procedure—called thrombectomy.
In addition, we perform surgical treatments for hemorrhagic (bleeding) strokes.
We earn awards for stroke care
Our expert team has earned prestigious awards for stroke care. Among them:
Gold Plus Quality Achievement Award. QVH and Emanate Health Foothill Presbyterian Hospital (FPH) have both received The American Heart Association/American Stroke Association's (AHA/ASA) Get with the Guidelines ®-Stroke Gold Plus Quality Achievement Award. The award recognizes our commitment to ensuring stroke patients get the most appropriate treatment, according to nationally-recognized, research-based guidelines based on the latest scientific evidence.
Gold Plus Target Stroke Honor Roll Elite. QVH has received the AHA/ASA's Gold Plus Target Stroke Honor Roll Elite designation. To qualify for this, hospitals must meet quality measures designed to reduce the time between a stroke patient's arrival and treatment with Alteplase.
Our stroke center has the latest technology and equipment
Our neurointerventional lab is the newest in the San Gabriel Valley. And it's equipped with the cutting-edge technology for the treatment and management of stroke and other neurovascular diseases.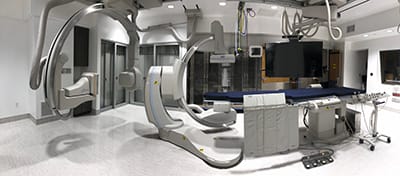 One example: Our digital biplane angiography system improves our specialists' ability to treat severe strokes. It's one of the most advanced interventional medical imaging technologies available. It uses two rotating cameras, one on each side of the patient, to take simultaneous images. As the cameras move side to side and front to back, they produce highly detailed images of blood vessels, soft tissue and blood flow in real-time.
We help people get their lives back after a stroke
In addition to quick treatment, we believe in providing our patients with early rehabilitation and the smoothest transition to the level of care that comes next.
We help people avoid a stroke
The best stroke treatment is prevention. If you are at higher risk of having a stroke, we can help.
In our outpatient neurology clinic, board-certified neurologists work with people with a wide range of conditions that raise the risk of stroke, including atrial fibrillation, carotid artery stenosis, transient ischemic attacks and unruptured aneurysms or vascular malformations.
Our surgeons can perform stroke-preventing surgeries, including carotid endarterectomy.
Learn the warning signs of stroke
You can help your chances of surviving and recovering from a stroke by knowing stroke warning signs and how to get help.