Important Update to Visitor Policy Effective Immediately
Hospital news
|
Monday, November 23, 2020
Dear Emanate Health Community:
As the holiday season approaches, please accept our best wishes to you and your family for a healthy and safe celebration and season. We know that it has been a long and trying time for many this year. We all miss spending quality time with friends and family. With COVID-19 infections and fatigue at an all time high, we must stay vigilant about keeping each other safe.
While there is exciting news that highly effective, safe vaccines and improved treatments are on the horizon, we are unfortunately facing another surge of COVID-19 infections throughout Los Angeles County. With the COVID-19 virus spreading fast in the San Gabriel Valley and beyond, it's more important than ever to guard against infection now.
For the safety of all of our staff and patients, we are restricting visitors to our hospitals and will continue virtual visits. All routine visiting is suspended until the transmission of COVID-19 is no longer a threat. Few exceptions apply to end of life care. The updated visitation policy is effective today, November 23, 2020 until further notice.
We understand the hardship and sacrifice our patients and their loved ones face under these restrictions and do not take this decision lightly. We encourage families and friends of our patients to stay in touch with loved ones via virtual visits.
Consider limiting holiday plans this year in order to stay safe until COVID-19 is under control.
Limit Travel. Do not travel for the holidays unless absolutely necessary. If you must travel, get tested 3 to 6 days after returning home. Please isolate yourself from others for 14 days after your return, even if your test is negative.
#MaskUp. Wear masks when you are with other people and social distance whenever possible. Also wear masks whenever you are in a public space or building. Remember, cover your mouth and nose!
Limit Gatherings. Don't have gatherings with people outside of your household. If you must meet with people who you do not live with, lower the risk of spreading the virus with these steps:
This season, rally your friends and family to give the gift of safety and health. Next year, we can look forward to a more normal world when the vaccine is available in our communities.
Here is a reminder of our protocols for staying healthy until the global pandemic is under control. If you must meet with people who are not part of your household, you can lower the risks with these steps: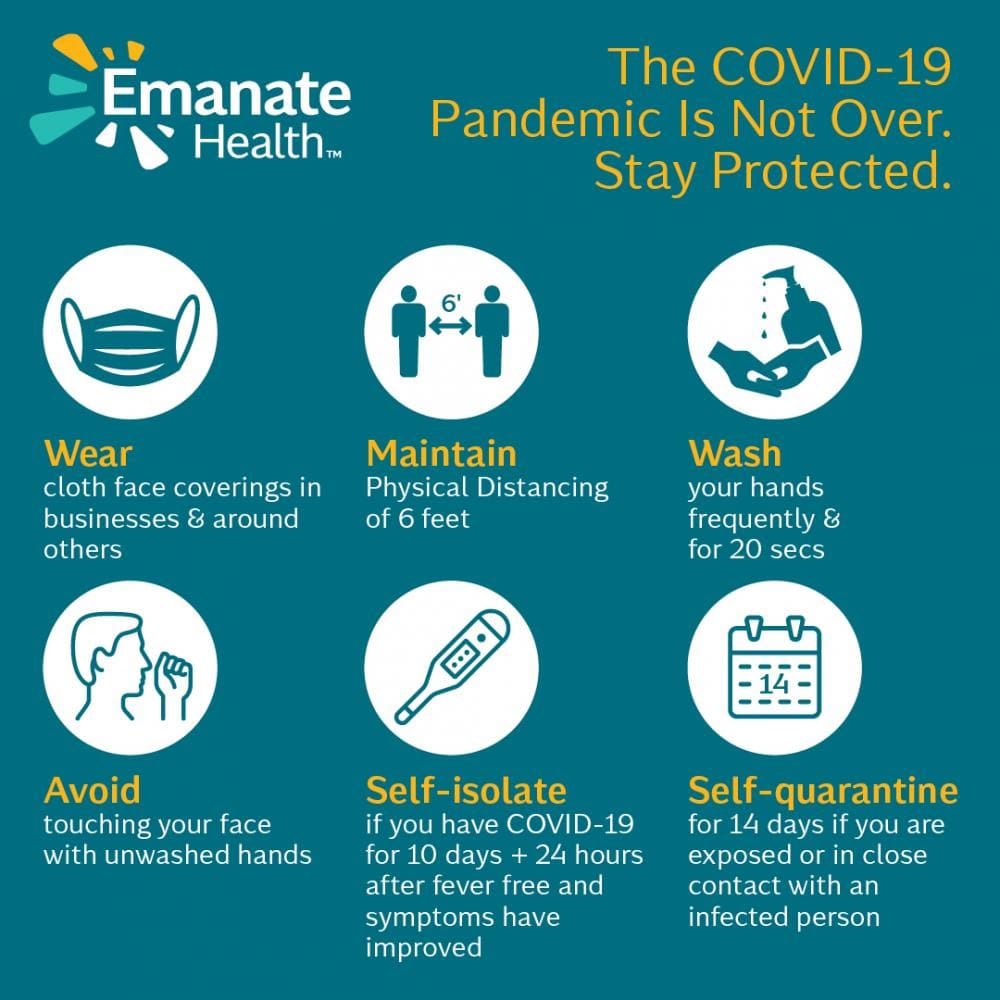 Remember, WE'RE ALL IN THIS TOGETHER,
Rob Curry,
Chief Executive Officer