Emanate Health, U.S. Rep. Grace Napolitano and Other Civic Leaders Break Ground for New Emergency Department/ICU in West Covina
The new facility at Emanate Health Queen of the Valley Hospital will enhance emergency care and serve up to 120,000 patients a year, addressing a growing need.
WEST COVINA, Calif. — To help increase emergency and critical care in the community for years to come, U.S. Rep. Grace Napolitano joined Emanate Health officials and other civic leaders to break ground on April 29, 2022, for a state-of-the-art emergency department and intensive care unit at Queen of the Valley Hospital in West Covina—one of the busiest EDs in Los Angeles County.
"This is a momentous day in our history," said new Emanate Health President & CEO Roger Sharma. "Our communities are growing. Our communities are aging and the health care needs are rising every single day. We need to build infrastructure that will take care of them for at least the next decade."
Built in 1962 to serve 40,000 visitors a year, the hospital ED/ICU today treats more than 80,000 patients annually. Once completed in 2024, the new facility will serve up to 120,000 patients a year, addressing a growing need for years to come.
"I'm very impressed by what I'm hearing and I congratulate all of you for the fine work in getting more service to an underserved community," said Rep. Napolitano, whose 32nd Congressional District includes parts of the San Gabriel Valley. "I hear such great things, I know it's worth coming back to visit, to learn and see how we can help in Washington D.C. to elevate the need for funding, which I know you sorely need."
In addition to Rep. Napolitano and two of her staff members, West Covina Mayor Pro Tem Rosario Diaz, and representatives from the offices of California State Senator Susan Rubio, California State Assembly member Blanca Rubio and Los Angeles County Supervisor Hilda Solis also attended to present certificates of commendation to Emanate Health officials.
The two-story, 60,000-square-foot building will include a new 60-bed emergency department on the first floor and a 24-bed intensive care unit on the second floor. The ED/ICU currently provides 26 ED beds and an additional 18 ICU beds. The two units will contain state-of-the-art medical devices including CT-MRI equipment, X-ray and imaging devices, and advanced technology for stroke care to provide robust diagnoses and treatments for the community's critical patients.
"I'm so glad that this vision is finally becoming a reality," said former Emanate Health CEO Robert H. Curry, who took part in many discussions about the project in his previous role. "This project is mainly a tribute to the ED staff. They gave their best input without hesitation and gave their best thoughts to design a team environment for emergency medicine."
Sergio Hernandez, MD, the Medical Director of Emergency Medicine at Queen of the Valley Hospital, described the project as one of "commitment." He noted that five years ago, the hospital was recognized nationally for being one of the best emergency departments in the country.
"We could have rested on our laurels, we could have said, 'we're good enough,' and we didn't. (The hospital) administration had the passion and the insight, the (Emanate Health) Foundation had the commitment and our board really helped us through this vision to make Emanate Health better."
Dr. Hernandez said the new ED will specifically provide an area for treating patients with psychiatric emergencies to better stabilize them. Dedicated areas will also care for pediatric patients and those with or suspected of having COVID-19.
About Emanate Health
Emanate Health exists to help people keep well in body, mind and spirit by providing quality health care services in a safe, compassionate environment. Emanate Health is the largest nonprofit health care provider serving the one million residents of the San Gabriel Valley in California. The system provides specialized care in Behavioral Health, Cancer, Cardiovascular, Emergency, Neuroscience and Stroke, Orthopedics, Sports Medicine, and Women's Health. Its family of hospitals and hospice include Emanate Health Inter-Community in Covina, Emanate Health Queen of the Valley in West Covina, Emanate Health Foothill Presbyterian in Glendora, Emanate Health Hospice & Home Care in West Covina, as well as other clinics throughout the region. Year after year the health care system has been voted "Best Hospital" and "Best Place to Work" and providers are consistently among the "Top Doctors" in Los Angeles County and hospital services are recognized for quality care. Visit emanatehealth.org, our Newsroom and connect with us on LinkedIn │Twitter │ Instagram │ Facebook.
###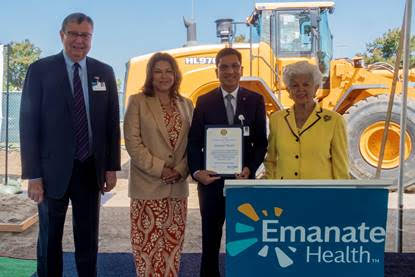 U.S. Rep. Grace Napolitano (in yellow) presents a certificate to (from left) former Emanate Health President & CEO Rob Curry, Emanate Health Foundation Board of Trustees Chairwoman Lisa Fuerst and Emanate Health President & CEO Roger Sharma at the groundbreaking event, April 29, 2022.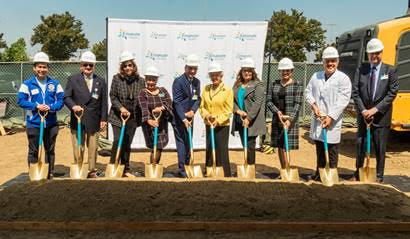 U.S. Rep. Grace Napolitano (in yellow) and Emanate Health President & CEO Roger Sharma (to Napolitano's right) join hospital officials and other civic leaders for the groundbreaking ceremony.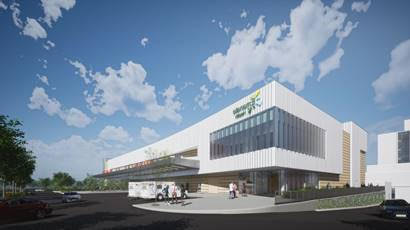 Rendering of new Emanate Health Emergency Department and Intensive Care Unit.