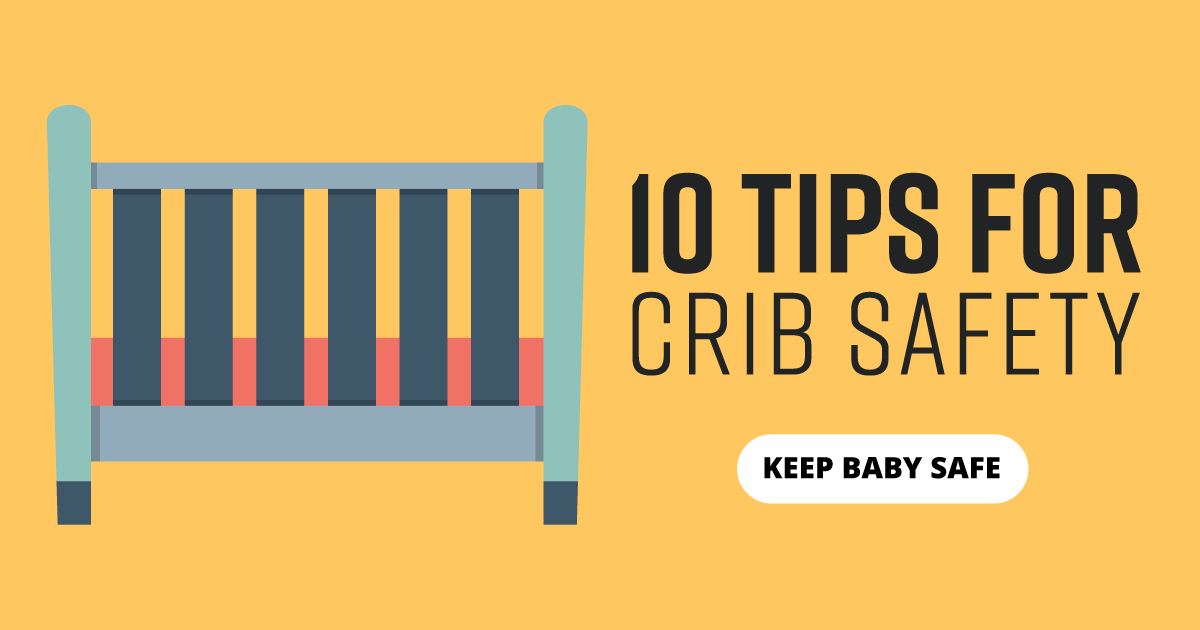 Reviewed 3/27/2023
Crib safety basics
How to make your child's sleep environment safe
Babies spend a lot of their time sleeping. As a parent, one of your most important jobs is to make sure the place your child sleeps is safe. That means choosing a safe crib. It also means using safe bedding.
Here are 10 things you can do to help keep your baby safe in his or her crib.
1. BUY A NEW CRIB.
Thanks to strict safety rules, cribs sold in the U.S. are probably the safest in the world.
Cribs sold since June 28, 2011, are required to have stronger slats and mattress supports and better hardware. And they can't have drop sides, which can be unsafe.
So, if at all possible, buy a new crib.
2. IF YOU MUST USE AN OLDER CRIB, MAKE SURE IT'S SAFE.
If you need to use an older crib, be sure:
It does not have drop rails.
The crib slats are no more than 2 3/8 inches apart.
The crib does not have any raised corner posts or cutouts where clothing could get snagged.
All parts fit tightly, and there are no splinters.
Paint isn't peeling and is lead-free and nursery safe.
Also, make sure the crib hasn't been recalled.
3. ASSEMBLE THE CRIB WITH CARE—AND CHECK IT OFTEN.
Follow the crib's assembly instructions exactly. Use only the parts that came with your crib. If a part is broken or missing, don't substitute something from your workshop or the hardware store. Such parts haven't been tested for safe use on your crib. Instead, call the manufacturer for a replacement.
Each time you change the crib sheets, make sure all the crib hardware is secure. Tighten any screws or other parts that seem loose. If wood-to-wood parts become wobbly, stop using the crib.
4. BE SURE THE MATTRESS FITS SNUGLY.
You should not be able to fit more than two fingers between the mattress and the crib side. A larger gap could trap your baby.
Adjust the mattress as your baby grows:
Check that the mattress is at least 26 inches from the top rail of the crib.
Place the mattress on a lower setting before infants sit up alone, and then lower it again before they learn to stand.
When children are about 3 feet tall, switch to a bed.
5. USE SAFE BEDDING.
The best crib money can buy won't be safe if it has the wrong bedding. Prevent a tragedy by keeping these things out of your infant's crib:
Bumper pads.
Pillows.
Sheepskins.
Quilts and comforters.
Stuffed toys.
6. ELIMINATE EXTERNAL HAZARDS.
Cords on draperies or window blinds can strangle a baby. So place the crib well away from anything your baby could grab and pull into the crib.
Hanging crib toys and mobiles are also dangerous. Make sure they are out of your infant's reach. Take them down when your baby is 5 months old or has started to push up on his or her hands and knees—whichever comes first.
7. DISPOSE OF A DANGEROUS CRIB.
The safest place for a baby to sleep is in a crib that meets the latest standards. That's why the standards apply to used cribs as well as to new ones.
So if you have a crib that doesn't meet the new standards, don't sell it, donate it or give it to anyone else. Instead, take it apart and discard it.
8. CHECK EVERY CRIB YOUR CHILD USES.
Make sure any crib your child uses outside your home—such as in a child care center, relative's house or hotel—is safe.
Drop sides are an obvious red flag. But you can't always tell just by looking at a crib whether or not it's safe. Ask the day care or hotel manager for proof that the crib meets the new standards.
9. MAKE PORTABLE CRIBS AND PLAYPENS SAFE TOO.
If your child ever sleeps in a portable crib or playpen, make sure it's safe. For example:
Use safe bedding. Avoid items like pillows or quilts.
Don't leave the side of a mesh playpen lowered. Your baby could get caught and suffocate.
Remove any toys that are tied across the top of the playpen when your child is 5 months old or when he or she can sit up or get on all fours.
Make sure the playpen is in good shape. Look for tears in the top rails or mesh. And check for things like loose, missing or exposed staples.
Make sure any openings are smaller than ¼ inch across.
10. ALWAYS PUT YOUR BABY ON HIS OR HER BACK TO SLEEP.
Babies up to 1 year of age should always be put to sleep on their back. This is true for naps as well as at night. Putting your baby on his or her back to sleep will help reduce the risk of sudden infant death syndrome (SIDS).
SIDS is the leading cause of death for infants between 1 month and 1 year old. You can take steps to prevent it.
Sources: American Academy of Pediatrics; Consumer Product Safety Commission; National Institutes of Health
Sources