Leadership
Meet the Emanate Health administration.
Chief Executive Officer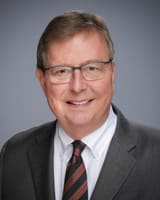 Rob has been the Chief Executive Officer of Emanate Health since November 2008. He joined Emanate Health after serving in the same capacity for five years at O'Connor Hospital in San Jose, Calif. Before coming to O'Connor Hospital, Rob was CEO of Thunderbird Medical Center, a 640-bed Banner Health System hospital in Phoenix, Ariz., for 13 years. During four of those years, he also served as CEO of Maryvale Samaritan Medical Center, a 340-bed community hospital that was an affiliate within the Banner Health System. Rob also has held executive positions with hospital systems in Youngstown, Ohio, and Pittsburgh, Pa.

For two consecutive years, Rob has been named by the Los Angeles Business Journal as one of the 500 most influential community and business leaders reshaping Los Angeles County in 2019 and 2020. In addition, Rob was recognized as finalist for Hospital CEO, President of the Year Health Care Award among leaders from Adventist Health Glendale, UCLA Health, City of Hope and Keck Medicine of USC. Under Rob's leadership, Emanate Health has become a leading provider and employer of choice in the region dedicated to expanding health care access for all. Emanate Health is ranked #1 health care system and #19 among the top 100 Best Places To Work 2021in the nation by Glassdoor.
He serves as the Board Chair for Private Essential Access Community Hospitals (PEACH) - a network of private, core safety net hospitals in California that care for a disproportionate share of low-income, medically vulnerable patients. Rob is currently a Fellow in the American College of Healthcare Executives. He serves on the board of directors for the California Hospital Association and also serves as a member of its executive committee. Rob previously served as a member on the board of the American Hospital Association, Region 9.

He previously served as a member of the Southern California Hospital Council, and while in San Jose, he served as a board member and chair of the Northern California Hospital Association. Additionally, while in Phoenix, Rob served on the board of the Arizona Hospital Association. Throughout his career, Rob has been involved in numerous service organizations and community boards including: the American Heart Association, United Way, YMCA and Rotary International. Rob holds a Bachelor of Arts in Economics and a Master's in Public Health Administration, both from the University of Pittsburgh.
President and Chief Financial Officer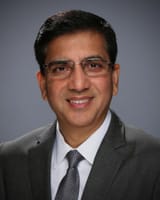 Roger Sharma is the President and Chief Financial Officer for Emanate Health. He has more than 20 years experience in health care finance and leadership. Roger most recently served as Senior Vice President of Financial Operations for City of Hope. Other previous appointments include positions at St. Mary Medical Center in Long Beach, Calif.; California Hospital Medical Center in Los Angeles; and Glendale Memorial Hospital and Health Center. Roger earned his Presidential and Key Executive Master of Business Administration degree from Pepperdine University and is a Certified Public Accountant. He also completed an executive education program in health care delivery at Harvard Business School and is an inaugural fellow of Coro's Health Leadership program and a fellow of Leadership Southern California.
Chief People Officer
Angela Bernacki is Chief People Officer for Emanate Health. She is responsible for Human Resources' strategic development and senior management of recruitment and retention, Patient Experience, Patient Relations, Interpreter Services, physician coaching, the Patient and Family Advisory Council and the Cope Health Scholar program. Since joining Emanate Health, Bernacki has taken a leadership role in developing the organization into a recognized employer of choice.

Prior to working at Emanate Health, Bernacki advanced innovation across a variety of multi-national organizations including Western International Media and City of Hope. At Western International Media, an $11 billion media management company, Bernacki developed, led and executed employer branding and talent acquisition strategy. During her employment at City of Hope, she helped build their HR infrastructure through people, technology, and compliance.

With more than twenty years of experience in the human resources field, Bernacki brings expertise in talent acquisition management, reward and recognition, and organizational and professional development, which has contributed to Emanate Health's growth. She is passionate about patient and family-centered care and employee engagement. She has successfully driven a culture of service excellence and accountability across the system. Emanate Health presented Bernacki with a Women of Achievement award for her exceptional achievements and dedication to Emanate Health and the communities they serve.

Bernacki is a graduate of California State Polytechnic University, Pomona, where she studied Business Administration and Human Resources management. She is a member of Professionals in Human Resources, Society for Human Resources Management and the Beryl Institute, a global patient experience community. She has a Green Belt from the Joint Commission Center for Transforming Healthcare and received a certificate by Gallup in strengths based coaching. Bernacki's ability to build and strengthen the link between people and strategy, as well as motivate and manage talent, is invaluable to the long–term success of Emanate Health.
Chief Nurse & Clinical Executive, ICH/FPH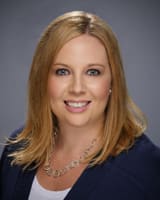 Melissa is the Chief Nurse and Clinical Executive for Emanate Health Inter-Community Hospital and Emanate Health Foothill Presbyterian Hospital. She started her career at Emanate Health in 2000 as a new graduate nurse, serving as the Director of Performance Improvement and Director of Medical Surgical Services before progressing to the Chief Nurse Executive Role in 2012.
Melissa has been on the board for the Sigma Theta Tau-Iota Sigma chapter and is currently a member of the Association of California Nurse Leader's Philanthropy Committee. In her years of leadership roles with Emanate Health she has worked to standardize processes throughout the system, improve the patient experience as well as quality of care patients receive. She has worked with the FPH nursing leadership team to implement Nursing Shared Governance as well as improve nursing services through the reincarnation of the Clinical Ladder program, increased professional certifications among the nursing staff and promote advanced degree completion. Melissa received her MSN from Azusa Pacific University.
Chief Medical Officer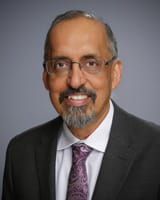 Dr. Gurjeet Kalkat is the Chief Medical Officer for Emanate Health. Before he took on this role he was the Medical Director of Foothill Presbyterian Hospital. He also served as the Chief of Staff at Foothill Presbyterian Hospital in 1997. Dr. Kalkat has been with this organization since 1992.
He received his Medical degree from the University of Delhi and trained in pulmonary and critical care at University of Southern California. He is board certified in internal medicine, pulmonary medicine, critical care medicine, palliative care and hospice medicine.
His focus is to provide integrated, quality and efficient medical care to our community.
Chief Nurse & Clinical Executive, QVH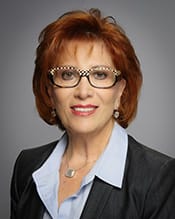 Mary is the Chief Nurse & Clinical Executive for Queen of the Valley Hospital in West Covina. She is a registered nurse who oversees all clinical operations and patient care at the 325-bed hospital. Mary is a senior executive and management leader for Emanate Health who reports directly to the Chief Executive Officer.
Most recently, Mary served as Vice President of Nursing and Ancillary Support Services at QVH, where she managed clinical operations in departments throughout the hospital beginning in 2019. Before that, Mary was the Corporate Director of the Neuroscience service line, as well as the Neurosurgical Unit, the Direct Observation Unit and the Medical/Surgical Unit, a position she held for six years. Mary first arrived at QVH in 2012 and held several director positions in various departments.
Before joining Emanate Health, Mary held nursing positions at Glendale Memorial Hospital and Health Center and USC Verdugo Hills Hospital for more than 13 years.
Mary holds a Master's Degree in Clinical Psychology with a focus on family dynamics from Phillips Graduate Institute in Chatsworth, CA. She also holds a Master's Degree in Nursing Administration from the University of Phoenix.
Chief Support Services Officer Emanate Health
Charles "Chip" Graham Riddle III started his career with Emanate Health as Vice President of Support Services in 2017 and was promoted to Chief Support Services Officer in 2018. Chip has 35 years of experience in healthcare, having held a number of director and administrative positions in Michigan and California hospitals with the most recent being Director of Facilities and Construction at Keck School of Medicine of USC from 2010-2016. Chip has served on both the Michigan and California Society for Healthcare Engineering Boards to further the mission of healthcare engineering. He holds a Bachelor's of Science in Mechanical Engineering from Western Michigan University and has been awarded Knight Grand Cross of the Equestrian Order of the Holy Sepulchre.